Palm Tree by CATHY STABLES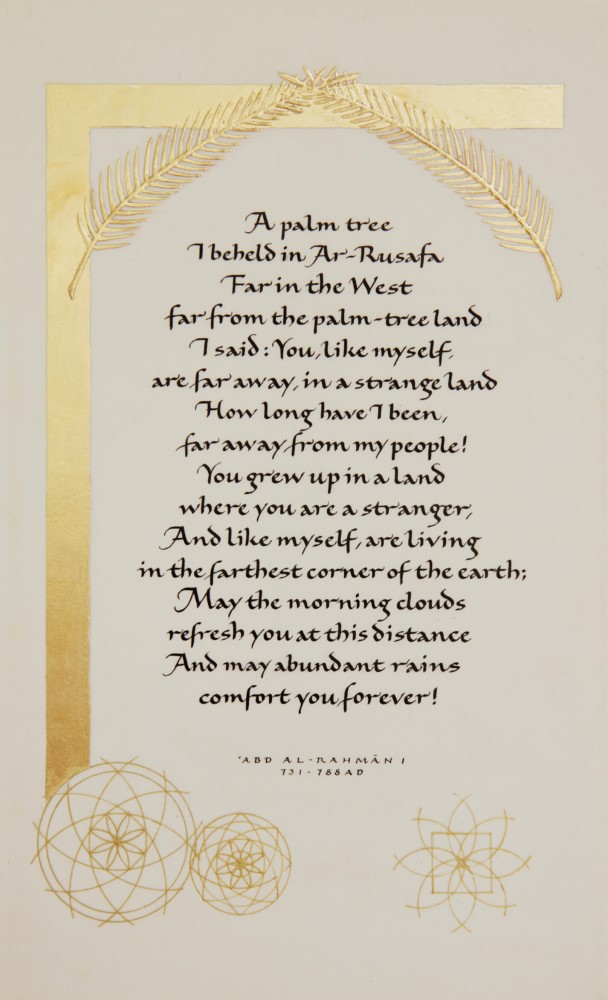 Palm Tree by CATHY STABLES
Vellum, gold leaf, metal nibs and Chinese ink
Artist statement
Cathy Stables is a fellow of the Calligraphy and Lettering Arts Society and the Society of Scribes and Illuminators. Gilding is a feature of much of her commissioned and personal work.
The two pieces 'Palm' and 'Willow' are linked by the theme of displacement which is an important and contemporary issue. 'Palm' was written by a Syrian living in Córdoba in Spain, reminded of his homeland. 'Willow' is from a psalm and lament of the Jews exiled in Babylon. The style of lettering for 'Palm' is meant to be suggestive of the Middle East, the flowing Italic for 'Willow' to reflect leaves and water. The decorative circular patterns were inspired by Islamic art.
Materials used were gold leaf for raised and flat gilding on stretched vellum with gold gouache and calligraphy written with Chinese ink and metal pens.