The Journeyman scheme offers tuition, expertise & guidance to further the careers of letter carvers.
Our Journeyman scheme was launched in 2014 to provide bespoke training for experienced, committed letter carvers who want to focus on a specific area of their craft. The scheme offers tuition, expertise and guidance to help letter carvers gain in confidence to become fully self-employed.
What past journeyman recipients say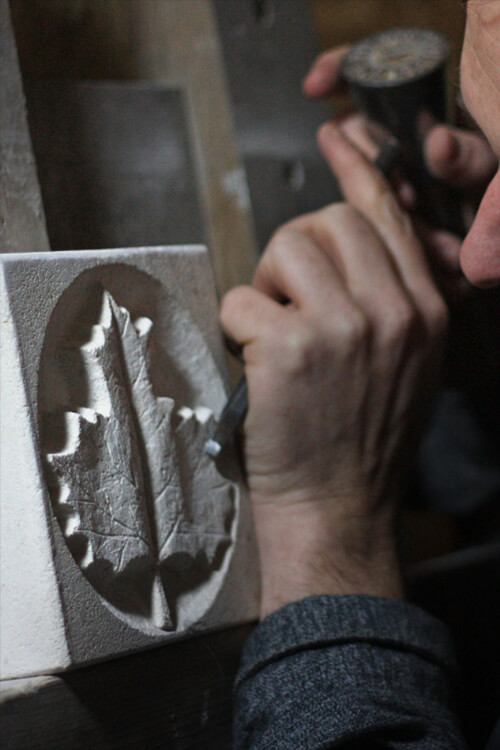 Ben Williams spent six weeks training with Alec Peever, a renowned artist based in Oxfordshire. Ben's placement with Alec featured study on the form and drawing of letters, as well as practical hands-on work assisting Alec with his commissions.
"What an amazing journey so far. This would not have been possible without the grant from the Lettering Arts Trust. I feel… like I'm meant to do this – I've found my role in life, which is deeply satisfying."
Joe Hickey spent several weeks with letter carver and lettering designer John Neilson in Wales. John helped Joe focus on the practical and business side of running a workshop. This was also a very physical placement, with Joe helping John inscribe a huge oak beam at a site in the Highlands.
"Working away on-site in the Highlands, and with John's advice on costing jobs, I feel better-armed for my future as a letter carver."
Make an application
If you ARE interested in participating in our journeyman scheme
It is presumed that you have excellent experience in letter design and letter carving, but would benefit from working for up to a three month period with a variety of professional letter carvers. A grant up to the value of £3,500 is awarded towards accommodation and tuition. If you would like to apply please download and fill out the form , emailing it back to us with as much information as you are able to provide (please note, we only award a journeyman as funds are available).